Have you ever considered including Ballroom / Latin / Street Latin / Salsa / Lindy Hop / Tango / Charleston / Jive / Swing dancing as part of the Physical Education curriculum at your School?
Or if this style of dancing is already part of your curriculum – have you considered making it the best possible experience for the students by hiring a professional Ballroom dance teacher?
The strongest pedagogical reason for learning to dance is that students are exercising while having a great deal of fun. Due to the fact that Ballroom dancing is shared with a partner – it adds to the learning factor and the fun factor.
There are significant physical and mental benefits in learning to dance Ballroom across a range of age groups.
The most relevant to children and adolescents are:
♦ improved co-ordination;
♦ improved agility and flexibility;
♦ greater balance and spatial awareness;
♦ increased physical confidence;
♦ improved mental functioning;
♦ enhanced general and psychological well-being;
♦ greater self confidence and self esteem;
♦ better social skills and resiliency.
Here is some interesting research that shows clear benefits of dance lessons for school students:
An evaluation of a National Dancing Initiative conducted in 2009, found that students's attitudes to exercise changed as a result of introducing Ballroom and Latin dance to PE lessons.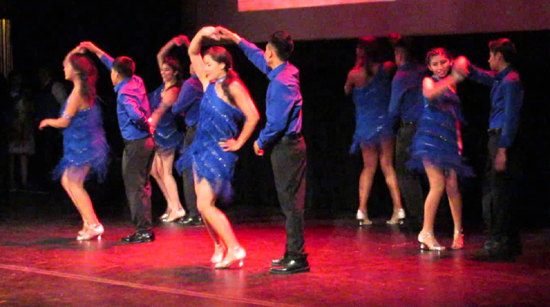 The scheme, called 'Essentially Dance', aimed to improve student's health and fitness, build their confidence and improve their relationship skills. It saw more than 2,500 students aged 5-18 learn to cha-cha, waltz and jive in 29 primary and secondary schools across England.
The evaluation, conducted by Dr Jeanne Keay, Dean of Education and Dr John Spence, Head of Physical Education at Roehampton University, found that shy children's self-esteem was boosted and they made friends as a result of the classes.
It also revealed that less sporty students became more interested in PE and student's behaviour improved, with the teachers saying this was due to the disciplined and structured nature of Ballroom and Latin dancing.
8 in 10 students said they found dancing "exciting, cool and brilliant".
The study concluded that Ballroom dancing improved pupils' communication with each other and helped different age groups to work together – with older children teaching the younger ones new dance steps in the playground.
Dr Keay said: "Dance clearly has the potential to make a huge impact on all children's learning, helping pupils learn to move and move to learn".
A recent study in Sweden published in 'Archives of Paediatrics & Adolescent Medicine' involved 112 teenage girls who were struggling with problems including pain, stress, anxiety and depression.
In the study, half of the girls attended weekly dance classes, while the other half did not. The girls who took the dance classes improved their mental health and reported a boost in mood after the sessions—positive effects that lasted up to eight months after the classes ended.
I offer your students 19 years of dance teaching experience: After obtaining a degree in Health Science, I moved into the dance industry and was trained in Melbourne at Arthur Murray Dance Studios, Brighton, VIC.  Here I was able to win the "Top 10 teacher in the World for Beginner Students" within my first 3 months of teaching. Later I was awarded the "Top teacher for Advanced Students in Australia" in my second year of teaching.
I am available for teaching and/or choreography sessions during school hours in 2017.  I specialise in class 3, 4, 5 and 6 as well as all levels of secondary school. I individually tailor dance lesson packages to suit your student's needs and school requirements.
Prices vary depending on group numbers and activity. Call today to discuss.